Funk★U présente "Give Me The Funk! The Tribute Session"
Initiée par Funk★U et Wagram Music, la collection vinyle Give Me The Funk! s'enrichit d'un septième volume dédié aux reprises soul-funk de standards pop.
Si les racines du blues et de la soul ont longtemps inspiré les grands noms de l'histoire de la musique, les légendes du funk se sont également frottées aux incontournables standards pop-rock. Au fil des décennies, les covers destinées à combler des vides — et à faire prospérer de juteux catalogues d'édition — sur les faces des 33-tours se sont transformées en relectures autant originales qu'audacieuses.
The Tribute Session, le septième volume de la collection Give Me The Funk! The Best Funky-flavored Music, célèbre l'art de la reprise et organise la rencontre inédite entre les chansons des Beatles, des Rolling Stones, Led Zeppelin, Bob Marley, The Bee Gees, Cream, Grandmaster Flash and The Furious Five, Prince (sans oublier la Symphonie n°40 de Mozart !) et les grooves stupéfiants de Marcus Miller, Clarence Reid, Electro Deluxe, Bernard "Pretty" Purdie, The Mighty Mocambos, Spanky Wilson, Lenny White et bien d'autres. Get back to where you once belonged !
Give Me The Funk! The Tribute Session disponible le 27 mai en vinyle et version digitale (distribution : Wagram Music). Ecoutez et commandez.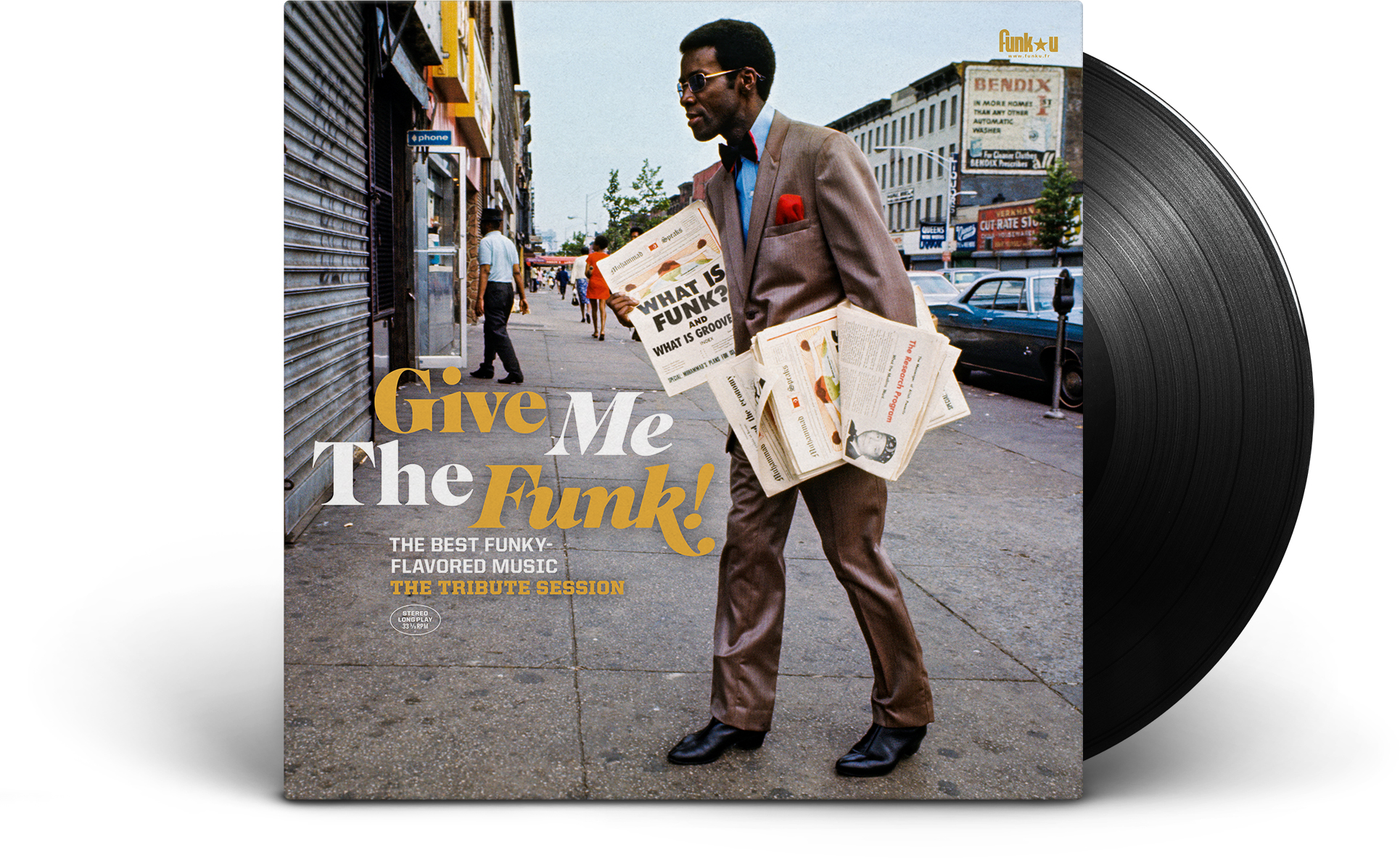 Tracklisting
Face A :
Clarence Reid "Get Back" (The Beatles)
Spanky Wilson "Sunshine of Your Love" (Cream)
Incredible Bongo Band "(I Can't Get No) Satisfaction" (The Rolling Stones)
Pretty Purdie & The Playboys feat. Norman Matlock "Funky Mozart" (Mozart)
Red Holt Unlimited "I Shot the Sheriff" (Bob Marley)
Dennis Coffey "Never Can Say Goodbye"
Face B :
The Mighty Mocambos "The Next Message" (Grandmaster Flash)
Electro Deluxe "Staying Alive" (The Bee Gees)
Marcus Miller "Girls & Boys" (Prince)
Lenny White feat. Donald Blackman & Foley "Kashmir" (Led Zeppelin)
Vidéo : Bettye LaVette "Wait" (The Beatles) en live chez David Letterman
La soul était à l'honneur cette semaine chez David Letterman. Après Sharon Jones lundi, l'animateur du Late Show de CBS  recevait Bettye LaVette venue défendre son nouvel opus Worthy, une collection de reprises signées Bob Dylan ou Mick Jagger & Keith Richards produite par Joe Henry. Découvrez sa reprise hantée de "Wait" des Beatles  dans le lecteur ci-dessus.
Vidéo : Lauryn Hill et Lenny Kravitz rendent hommage aux Beatles
Cette semaine, David Letterman célébrait la musique des Beatles dans le cadre du 50ème anniversaire de la première apparition du quatuor anglais à la télévision américaine. Vendredi, Ms Lauryn Hill s'est attaquée au classique d'Abbey Road « Something » tandis que Lenny Kravitz a choisi de reprendre le hit « Get Back » en compagnie de la bassiste Gail Ann Dorsey et de son guitariste Craig Ross, toujours aussi affûté.
Vidéo : D'Angelo "She Came In Through The Bathroom Window" live @ Bonnaroo Superjam 2012
Le quatrième épisode de la série Bonnaroo Superjam voit D'Angelo et les Roots reprendre "She Came In Through The Bathroom Window", une composition de Paul McCartney gravée dans l'époustouflant medley de la face B d'Abbey Road, l'ultime album des Beatles paru en 1969. Quand l'héritier de la Great Black Music rencontre l'esprit des Fab Four…