Audio : MF Robots (ex-Brand New Heavies) "Brand New Day"
En marge de The Brand New Heavies, le batteur et membre fondateur Jan Kincaid et la chanteuse Dawn Joseph s'associent pour fonder MF Robots (Music For Robots).
Dans un entretien paru dans ces pages en 2013, Jan Kincaid nous racontait sa rencontre avec Dawn Joseph : "Dawn nous a été recommandée l'an dernier par un ami musicien, alors que nous étions à la recherche d'une chanteuse. Nous voulions une anglaise, afin de faciliter le travail en termes géographiques. Elle est assez unique et elle fait partie du business depuis longtemps, même si peu de gens la connaissent. Elle a travaillé avec CeeLo Green, Eric Clapton ou encore Kylie Minogue. Elle n'a jamais vraiment réalisé ses propres projets, donc c'était une aubaine pour nous. Elle est fantastique, aussi bien en tant que chanteuse qu'en tant que performer. Elle nous ouvre de nouveaux horizons."
Après un premier album éponyme paru en 2018, le duo est de retour avec Break the Wall, déjà disponible en digital et en CD et vinyle le 26 novembre (distribution : BBE).
Découvrez son extrait "Brand New Day" ci-dessous.
Le meilleur du label Golden Rules dans "The Originals 1"
"Bringing soul back to the people." Telle est la devise du label allemand Golden Rules, qui publie le 15 octobre The Originals 1, une sélection de 14 titres parmi ses sorties les plus emblématiques signées Gizelle Smith, Shawn Lee's Ping Pong Orchestra, DeRobert & The Half Truths, The Mighty Mocambos, Ghost Funk Orchestra et bien d'autres.
"Dès le début, nous avons voulu être un projecteur sur la scène actuelle du funk contemporain, de la soul et des vibrations positives", expliquent les responsables du label. "Nous nous sommes mis en relation avec un joli réseau de musiciens, de labels et d'amateurs de soul music et avons créé le premier sampler. De Moscou à Hambourg, en passant par Paris et New York, de Londres à Barcelone et Nashville : c'est un bouquet coloré de véritables épopées soul, de grooves psychédéliques et de breaks funky d'artistes talentueux du monde entier."
Golden Rules : The Originals 1 sera disponible en vinyle, cassette et version digitale le 15 octobre.
Tracklisting
Gizelle Smith – Jonny 03:39
The Drawbars – Shinjuku Strut 03:36
Laura Llorens & The Shadows Of Love – All Or Nothing 03:24
The Brothers Nylon – Three Ears 02:56
The Gripsweats Feat. Oliver James – This City 03:28
The Soul Surfers – Rhythm 2 03:49
Magic In Threes – Diggin' Dirt 02:17
The Mighty Mocambos – Find My Way 03:29 Min
Outer Space – Magnetic Monster 03:29
Ghost Funk Orchestra - Asphalt Homeland 04:08
Hot Border Special – Fresher Under Pressure 03:25
Derobert & The Half Truths – Thievin' & Robbin' 03:28
Shawn Lee's Ping Pong Orchestra – Rocket Ship 04:17
The Supertights – Sweet Extasy 02:32
"Funk, Soul & Hip-Hop Diggers", la série vinyle
Compilée par Olivier Cachin et illustrée par Lazoo, la série Diggers propose trois doubles-vinyles consacrés aux héros – connus et méconnus – du funk, de la soul music et du hip-hop.
Au programme : Funkadelic, Grandmaster Flash and the Furious Five, Ohio Players, The Fatback Band, Blowfly, Afrika Bambaataa, Marva Whitney et bien d'autres ! Tracklistings complets ci-dessous (distribution : Wagram Music).
Informations :
A1 Funkadelic Can You Get To That
A2 Ohio Players Funky Worm
A3 Lafayette Afro Rock Band Darkest Light
A4 Lonnie Liston Smith & The Cosmic Echoes A Chance For Peace
A5 All The People Feat. Robert Moore Cramp Your Style
B1 Taana Gardner Work That Body
B2 Bobby Byrd Back From The Dead
B3 Betty Wright Clean Up Woman
B4 Little Beaver Funkadelic Sound
B5 Timmy Thomas Are You Crazy???
B6 Black Ivory I Keep Asking You Questions
C1 T-Connection Do What You Wanna Do
C2 Ike Turner & The Kings Of Rhythm Funky Mule
C3 The Fatback Band Yum, Yum (Gimme Some)
C4 The Blowflys Funky In The Hole
C5 Uncle Louie Feat. Walter Murphy I Like Funky Music
D1 Blowfly Nobody's Butt But Yours, Babe
D2 Margie Lomax God's Greatest Gift To Man Is A Woman
D3 Queen Yahna Ain't It Time
D4 Marva Whitney With Osaka Monaurail I Am What I Am (Part 1 & 2)
D5 Joy Fleming Fieber (Fever)
A1 Sonny Knight & The Lakers Sugar Man
A2 Gloria Ann Taylor Jolene
A3 Don Julian & The Larks Shorty The Pimp
A4 Foster Sylvers Misdemeanor
A5 Florence Miller The Groove I'm In
A6 Mac Rebennack & The Soul Orchestra The Point
B1 Clarence Reid The Best Part Of A Man
B2 Doris Duke Woman Of The Ghetto
B3 Gwen McCrae 90% Of Me Is You
B4 Helene Smith Help Me To Keep What I've Got
B5 Teddy Reynolds Ain't That Soul
B6 Miss Lavelle Stop These Teardrops
C1 Millie Jackson I Cry
C2 The Whatnauts Why Can't People Be Colors Too?
C3 George & Gwen McCrae Mechanical Body
C4 Gino Washington Puppet On A String
C5 Chet "Poison" Ivey & His Fabulous Avengers Soul Is My Game
C6 Betty Padgett Sugar Daddy Pt. 1
D1 Brother To Brother In The Bottle
D2 Class Get Your Chic Together
D3 Latimore Let's Straighten It Out
D4 C.B. & Ten Others With Axes Rosie
A1 Grandmaster Flash & The Furious Five It's Nasty (Genius Of Love)
A2 Boogie Down Productions The Bridge Is Over
A3 Afrika Bambaataa, Zulu Nation & Cosmic Force Zulu Nation Throw Down
A4 Nitro Deluxe Journey To Cybotron
A5 Tuff Crew My Part Of Town
B1 Blowfly Blowfly's Rap
B2 Funky 4 + 1 King Heroin
B3 (MC) Rock Lovely One Time Two Time Blow Your Mind
B4 Double Trouble Stoop Rap
C1 Choice M.C. This Is The "B" Side (True Blue Mix)
C2 The Fatback Band King Tim III (Personality Jock)
C3 Fly Guy Fly Guy Rap
C4 Cybotron Clear
C5 Cold Crush Brothers Vs Fantastic Freaks Basketball Throwdown
D1 Willie Wood & Willie Wood Crew Willie Rap
D2 Hashim We're Rocking The Planet
D3 Maggotron Bass Invaders
D4 Cold Crush Brothers Feel The Horns
D5 Madam Funkyfly The Crazy Mule Saloon
Vidéo : Cimafunk feat. George Clinton "Funk Aspirin"
Originaire de Cuba, Erick Iglesias Rodríguez (alias Cimafunk) fusionne les rythmes cubains aux grooves du funk dans Alimento, un troisième album produit par Jack Splash (Kendrick Lamar, Alicia Keys, Solange Knowles…).
Disponible dès le 8 octobre, Alimento, distille avec efficacité et un savoir-faire évident un latino-funk aux influences multiples, de Zapp à Prince en passant par Parliament-Funkadelic. "Funk Aspirin", son premier extrait, bénéficie logiquement de la participation du Dr. Funkenstein himself, George Clinton.
Découvrez "Funk Aspirin" ci-dessous. Cimafunk sera en concert à Paris (New Morning) le 10 novembre.
Vidéo : The Next Movement "See No Limits"
Paru le 10 septembre dernier, l'album éponyme du trio suisse The Next Movement, composé de J.J. Fluck (batterie/chant), Pascal "P" Kaeser (basse) et du guitariste Sam Siegenthaler, fusionne habilement les influences de James Brown, Prince, Jimi Hendrix et D'Angelo.
De leur expertise du MPLS Sound en passant par une reprise furieuse du "Come Together" des Beatles, The Next Movement remet les pendules à l'heure ! La preuve avec l'extrait "See No Limits", visible ci-dessous.
Gagnez des vinyles "Give Me the Funk ! (Volume 5)"
En partenariat avec Wagram Music, Funk★U vous offre le vinyle Give Me the Funk ! (Volume 5).
Après le succès des trois premiers volumes parus l'an dernier de la collection Give Me the Funk ! The Best Funky-Flavored Music, voici les volumes 4, 5 et 6 disponibles depuis le 27 août (Informations).
Pour remporter votre album vinyle, il suffit de répondre à la question suivante en nous écrivant à concoursfunku@gmail.com avant le jeudi 23 septembre 20 heures. N'oubliez pas d'ajouter vos coordonnées complètes (nom, prénom, adresse postale) !
 Quel groupe a enregistré la version originale de "For the Love of Money" ?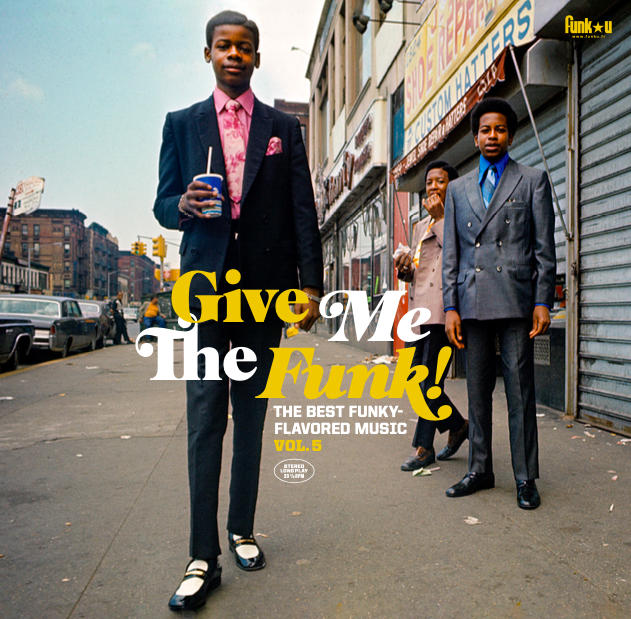 Que serait le funk sans ses grands personnages excentriques ? Le cinquième épisode de la série Give Me The Funk rassemble quelques-uns de ses plus remarquables spécimens, à commencer par Clarence Reid : "Je faisais déjà du rap en 1959 sur des 78 tours !", scandait l'alter-ego de Blowfly, leader des iconoclastes The Blowflys. Apparaît ensuite George Clinton et les délires orchestraux d'« If You Don't Like the effects, Don't Produce the Cause », extrait de l'inclassable America Eats its Young de Funkadelic (1972). Dans ce même volume, les Ohio Players et The Jimmy Castor Bunch s'extirpent de leurs pochettes extravagantes pour délivrer leurs grooves insensés, tandis que James Brown dénonce les méfaits de l'alcool et du tabac dans le rare « Smokin' and Drinkin' ». Si vous n'aimez pas les effets, ne produisez pas la cause !
Face A
The Blowflys "Funky in the Hole" (02'36)
Funkadelic "If You Don't Like the Effects, Don't Produce the Cause" (03'35)
Ohio Players "Hustler Bird" (02'55)
The Armada Orchestra "For the Love of Money" (06'17)
The Sylvers "Handle It" (02'44)
Malone & Barnes and the Spontaneous Simplicity "Road Man" (03'23)
Face B
James Brown "Smokin' and Drinkin'" (04'30)
KC and the Sunshine Band "I Get Lifted" (03'03)
T-Connection "Lady of the Night" (03'24)
 Asha Puthli "Flying Fish" (05'03)
 The Jimmy Castor Bunch "The Mystery of Me" (03'56)
Vidéo : Sharon Jones & The Dap-Kings "There Was a Time" (Live at the Apollo)
Le label Daptone Records célèbre son 20ème anniversaire avec la sortie de l'album de la Daptone Super Soul Revue LIVE! at the Apollo.
Enregistré lors de trois soirées au légendaire Apollo de Harlem en décembre 2014, ce recueil propose des performances de Sharon Jones and the Dap-Kings, Charles Bradley and his Extraordinaires, Naomi Shelton and the Gospel Queens, Antibalas, The Budos Band, Menahan Street Band, Saun & Starr et The Sugarman 3.
The Daptone Super Soul Revue "LIVE! at the Apollo" sera disponible le 1er octobre en double-CD, triple-vinyle et éditions collector (informations)
Découvrez son nouvel extrait, dans lequel Sharon Jones & The Dap-Kings s'attaquent au monumental "There Was a Time" de James Brown !
Travelling Without Moving de Jamiroquai en vinyle collector pour ses 25 ans
Pour commémorer le 25e anniversaire du troisième album de Jamiroquai Travelling Without Moving, un double-vinyle 180 grammes de couleur jaune avec une nouvelle pochette 2021 et des nouvelles notes signées Jay Kay, le leader et créateur du groupe.
Prévue le 17 décembre, cette édition comprendra le radio edit du remix de Dimitri From Paris de "Cosmic Girl", auparavant disponible uniquement sur quelques éditions limitées du propre label de Dimitri From Paris, Le-Edits records. Cette édition  comprendra également un code de téléchargement.
Sorti en Septembre 1996, Travelling Without Moving est l'un des albums les plus populaires de Jamiroquai et considéré comme l'album de funk le plus vendu de l'histoire, avec plus de 8 millions d'exemplaires à ce jour. Classique intemporel, l'album comprend les hits mondiaux « Virtual Insanity » et « Cosmic Girl ». 25 ans après que l'enregistrement, son message reste actuel et le refrain de "Virtual Insanity" semble prémonitoire : « Le futur semble fait de folie virtuelle, il semble toujours gouverné par notre attrait pour des nouvelles technologies inutiles et tordues. Maintenant il n'y a plus de son, car nous vivons tous sous terre »
Comme l'écrit Jay Kay dans les nouvelles notes de pochettes : « Le monde est différent maintenant — d'effrayantes machines militaires avec intelligence artificielle, des multi milliardaires cinglés, un monde qui semble dirigé par des compagnies technologiques monstrueuses….Je ne suis pas certain qu'on progresse, on dirait qu'on va en arrière sous plein d'aspects, et je ne nous vois pas durer encore des milliers d'années supplémentaires, avec la surpopulation, la totale destruction de nos forêts et océans et le gaspillage de nos ressources naturelles, l'alimentation de monstrueuses machines de guerre au service de leaders tyranniques et corrompus… Au final, nous sommes réellement tous en train de voyager sans bouger (Travelling Without Moving) »
Lien de précommande: https://JamiTWM25.lnk.to/snkkcz2aPR
Tracklisting
SIDE A
1 Virtual Insanity
2 Cosmic Girl
3 Use the Force
4 Everyday
SIDE B
1 Alright
2 High Times
3 Drifting Along
4 Didjerama
SIDE C
1 Didjital Vibrations
2 Travelling Without Moving
3 You Are My Love
4 Spend a Lifetime
SIDE D
1 Do You Know Where You're Coming From?
2 Funktion (Ruff Mix)
3 Cosmic Girl (Dimitri From Paris Remix Radio Edit)
A-P Connection, le funk à la française !
Fondé en 2012 à Reims, A-P Connection publie son quatrième album après Stellar Groove (2014), Dawn Of The Future (2019) et Beyond l'an dernier.
Disponible sur toutes les plateformes digitales, ainsi qu'en CD et en double vinyle, le double-album Wide Vision organise la rencontre entre des artistes contemporains tels que Nate Williams, Adam Chini, Ava Baya, Matthew Clanton, Chuck New et Ryan Online et des légendes du funk-disco des années 80 comme Heather Haywood des Cool Notes, Denise L Wilkinson from the ladies of Skyy, Junior, Howard Johnson, Joyce Sims.
Au programme : sections de violons, de cuivres, slaps de basses, synth & more !
Vidéo : The Brooks "So Turned On"
The Brooks, le secret le mieux gardé du funk canadien, a sorti il y a quelques mois son nouvel album Any Day Now sur le label Underdog Records. On y retrouve des échos de James Brown, D'Angelo, Fela Kuti, ou Herbie Hancock, passés à la moulinette funk des brillants instrumentistes du groupe.
Après "Gameplay" et "Turn Up the Sound", le collectif mené par Alexandre Lapointe et le frontman Alan Prater revient avec un nouvel extrait, "So Turned On", porté par un splendide clip en animation à découvrir ci-dessous.
Miles Davis à Jazz à Vienne 1991 en CD et double-vinyle
L'amour de Miles Davis pour la France a été largement documenté et couronné par une Légion d'honneur obtenue en juillet 1991. Miles Davis avait reçu cette médaille des mains du ministre de la culture Jack Lang, qui l'avait surnommé "le Picasso du jazz." Quelques jours plus tôt, il avait donné un concert électrisant au Festival Jazz à Vienne en compagnie du Miles Davis Group, composé de Kenny Garrett (saxophone), Deron Johnson (claviers), Joseph "Foley" McCreary (basse, claviers), Richard Patterson (basse) et Ricky Wellman (batterie). Il décédera deux mois plus tard, le 28 septembre 1991.
Le concert de Miles Davis au Théâtre antique de Vienne le 1er juillet 1991 est une de ses dernières performances, et cet enregistrement inédit contient deux titres écrits par Prince, "Penetration" et "Jailbait" (tracklisting complet ci-dessous). Cette édition spéciale intitulée Merci, Miles ! Live at Vienne sera disponible le 25 juin en double-CD, double-vinyle et version digitale.
Tracklisting
Hannibal
Human Nature
Time After Time
Penetration
Wrinkle
Amandla
Jailbait
Untitled Finale
Les 50 ans de Philadelphia International Records en vinyle
Fondé en 1971 par les novateurs et prolifiques songwriters/producteurs Kenneth Gamble et Leon Huff, Philadelphia International Records est devenu l'incubateur du son « Philly Soul », également connu sous le nom de Sound of Philadelphia. Le duo est parvenu à rassembler un extraordinaire groupe de producteurs, songwriters, musiciens et ingénieurs comme Thom Bell, Dexter Wansel, Bobby Martin, MFSB et Joe Tarsia. L'écurie du label qui dominait les charts disco, R&B, soul et funk comprenait The O'Jays, Patti LaBelle, Harold Melvin & the Blue Notes, Billy Paul, Teddy Pendergrass, Lou Rawls, McFadden & Whitehead, The Three Degrees, Jean Carn, Phyllis Hyman, The Intruders et beaucoup d'autres.
En l'honneur de son 50ème anniversaire (et en marge de la sortie d'un coffret-anthologie), Philadelphia International Records proposera au printemps deux nouveautés vinyles/versions digitales distribuées par Legacy Recordings : The Best of Philadelphia International Records est une compilation de 12 titres incluant les hits du label  "Love Train" de The O'Jays, "You'll Never Find Another Love Like Mine" de Lou Rawls et "Ain't No Stoppin' Us Now" de McFadden & Whitehead, qui sera proposée le 28 mai (tracklisting ci-dessous)
Dans le cadre du Disquaire Day 2021, Golden Gate Groove: The Sound of Philadelphia Live 1973 sortira également en vinyle pour la première et unique fois le 12 juin. Cet album est un enregistrement live de la seule réunion des stars du label (Harold Melvin & the Blue Notes, The O'Jays, The Three Degrees, et Billy Paul) en concert avec le groupe « maison » du label MFSB (Mother, Father, Sister, Brother), pour ce qui allait devenir le « son de Philadelphie », ou TSOP comme l'appellent affectueusement les fans. Le concert eu lieu à San Francisco, à la convention annuelle de CBS Records, au Fairmont Hotel en septembre 1973.
Informations : www.SoundOfPhiladelphia.com
The Best Of Philadelphia International Records
1. Back Stabbers – The O'Jays

2. The Love I Lost (Part 1) – Harold Melvin & The Blue Notes Featuring Teddy Pendergrass
3. Me And Mrs. Jones – Billy Paul
4. When Will I See You Again – The Three Degrees
5. You'll Never Find Another Love Like Mine – Lou Rawls
6. T.S.O.P. (The Sound Of Philadelphia) – Mfsb (Featuring The Three Degrees)
7. Ain't No Stoppin' Us Now – Mcfadden & Whitehead
8. If You Don't Know Me By Now – Harold Melvin & The Blue Notes Featuring Teddy Pendergrass
9. I'll Always Love My Mama (Part 1) – The Intruders
10. Love Train – The O'jays
11. Close The Door – Teddy Pendergrass
12. If Only You Knew – Patti Labelle
Golden Gate Groove: The Sound of Philadelphia Live 1973
Face A
1.Introduction By Master Of Ceremonies Don Cornelius Of Soul Train
2.Freddie's Dead – MFSB
3.If You Don't Know Me By Now – Harold Melvin & The Blue Notes

4.The Love I Lost – Harold Melvin & The Blue Notes
Face B
1.I Miss You – Harold Melvin & The Blue Notes
2.I Didn't Know – The Three Degrees
3.Dirty Ol' Man – The Three Degrees
Face C
1.T.S.O.P. (The Sound of Philadelphia) – MFSB
2.East – Billy Paul
3.Me and Mrs. Jones – Billy Paul
Face D
1.Back Stabbers – The O'Jays
2.When The World's At Peace – The O'Jays
3.Sunshine – The O'Jays
4.Love Train – The O'Jays