Funk
Publié le 5 septembre 2022 | Par Funk-U Magazine
0
The Jimmy Castor Bunch : The Definitive Collection
En dépit de l'humour et l'irrévérence de son funk – comme en témoignent 'Troglodyte (Cave Man)' et 'Bertha Butt Boogie' - Jimmy Castor était un musicien sérieux qui a plus que mérité son surnom, "The Everything Man". Il pouvait aussi bien chanter que jouer du saxophone, du piano, du vibraphone et de divers instruments de percussion, et comme si cela ne suffisait pas, il était également un chef d'orchestre, un arrangeur et un producteur accompli.
"Ce que nous allons faire ici, c'est remonter – très loin, dans le temps" : The Definitive Collection comprend 3-CDs et le hit "Troglodyte (Cave Man)", l'histoire délirante d'un homme des cavernes racontée par Castor sur un groove brûlant, mais aussi les classiques "Potential", "King Kong", "Supersound", "Bom Bom" et "Space Age' 12″ Disco Mix", sans oublier ses reprises étonnantes d'Elton John, de Roberta Flack des O'Jays et son "Tribute" à Jimi Hendrix.
 The Jimmy Castor Bunch The Definitive Collection (Robinsongs/Cherry Red). Coffret 3-CDs disponible le 11 novembre (informations).
Tracklisting
CD1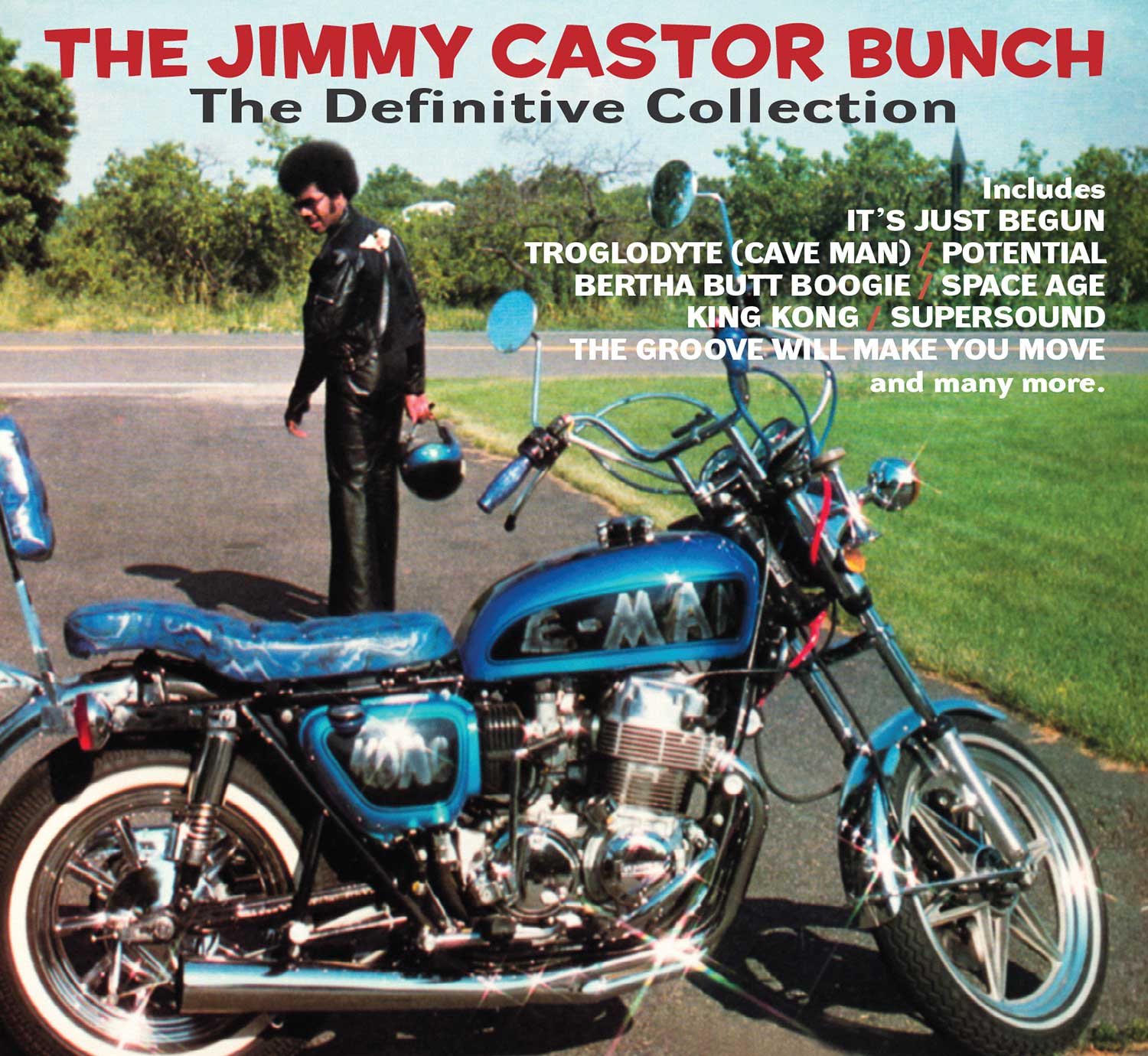 1. Hey Leroy, Your Mama's Callin' You
2. Southern Fried Frijoles
3. Creation (Prologue)
4. It's Just Begun
5. Troglodyte (Cave Man)
6. You Better Be Good (Or the Devil Gon' Getcha)
7. Psyche
8. L.T.D. (Life, Truth, & Death)
9. Creation (Epilogue)
10. Say Leroy (The Creature From The Black Lagoon Is Your Father)
11. Luther The Anthropoid (Ape Man)
12. First Time Ever I Saw Your Face
13. Tribute To Jimi
14. Paradise
15. I'm Not a Child Anymore
16. Soul Serenade (Remastered 2002)
17. Bertha Butt Boogie
18. E-Man Boogie
19. Let's Party Now
20. Daniel
CD2
1. Potential
2. Hallucinations
3. One Precious Word
4. Love Train
5. The Everything Man
6. Maggie
7. Supersound
8. King Kong
9. Bom Bom
10. A Groove Will Make You Move
11. Super Love
12. E-Man Groovin'
13. Dracula, Pt. I
14. I Love A Mellow Groove
15. Everything Is Beautiful To Me
CD3
1. Space Age (12″ Disco Version)
2. E-Man Par-Tay
3. Maximum Stimulation
4. The Return Of Leroy, Pt. 1
5. Mind Power
6. Tr-7
7. Don't Do That!
8. Party People
9. I Just Wanna Stop
10. Need Your Lovin'