Concours
Publié le 20 septembre 2021 | Par Funk-U Magazine
0
Gagnez des vinyles "Give Me the Funk ! (Volume 5)"
En partenariat avec Wagram Music, Funk★U vous offre le vinyle Give Me the Funk ! (Volume 5).
Après le succès des trois premiers volumes parus l'an dernier de la collection Give Me the Funk ! The Best Funky-Flavored Music, voici les volumes 4, 5 et 6 disponibles depuis le 27 août (Informations).
Pour remporter votre album vinyle, il suffit de répondre à la question suivante en nous écrivant à concoursfunku@gmail.com avant le jeudi 23 septembre 20 heures. N'oubliez pas d'ajouter vos coordonnées complètes (nom, prénom, adresse postale) !
 Quel groupe a enregistré la version originale de "For the Love of Money" ?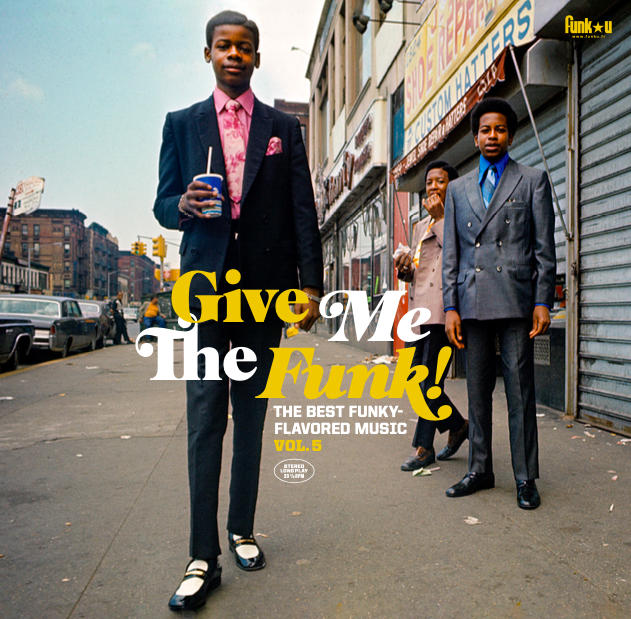 Que serait le funk sans ses grands personnages excentriques ? Le cinquième épisode de la série Give Me The Funk rassemble quelques-uns de ses plus remarquables spécimens, à commencer par Clarence Reid : "Je faisais déjà du rap en 1959 sur des 78 tours !", scandait l'alter-ego de Blowfly, leader des iconoclastes The Blowflys. Apparaît ensuite George Clinton et les délires orchestraux d'« If You Don't Like the effects, Don't Produce the Cause », extrait de l'inclassable America Eats its Young de Funkadelic (1972). Dans ce même volume, les Ohio Players et The Jimmy Castor Bunch s'extirpent de leurs pochettes extravagantes pour délivrer leurs grooves insensés, tandis que James Brown dénonce les méfaits de l'alcool et du tabac dans le rare « Smokin' and Drinkin' ». Si vous n'aimez pas les effets, ne produisez pas la cause !
Face A
The Blowflys "Funky in the Hole" (02'36)
Funkadelic "If You Don't Like the Effects, Don't Produce the Cause" (03'35)
Ohio Players "Hustler Bird" (02'55)
The Armada Orchestra "For the Love of Money" (06'17)
The Sylvers "Handle It" (02'44)
Malone & Barnes and the Spontaneous Simplicity "Road Man" (03'23)
Face B
James Brown "Smokin' and Drinkin'" (04'30)
KC and the Sunshine Band "I Get Lifted" (03'03)
T-Connection "Lady of the Night" (03'24)
 Asha Puthli "Flying Fish" (05'03)
 The Jimmy Castor Bunch "The Mystery of Me" (03'56)